Paul Maged's "Images" a Finalist in Best Alt/Rock song category with Greatest American Song Contest!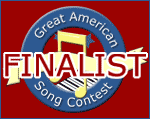 Paul Maged's song, "Images" from his critically acclaimed rock album, "Diamonds & Demons", was named a finalist in the 2014 Greatest American Song Contest (alt/rock category). Images holds a very special place in Paul's heart as it was the first song written for the album. Paul wrote the song in just a few hours while overlooking the Bass River in Dennis, Cape Cod. Images was even going to be the album title until just a few months before the album was completed.
Check out a rare live version of Images from Arlene's Grocery in NYC.